Feiyide Anode Titanium/Ti Basket for Metal Plating
Product Description
Titanium anode basket
1.We are sure it can meet your needs:
Anode Basket provide easily flowing of electrolytes, avoid sludge formation and hence bath contamination. The other advantages include non corrosive, uniform current distribution, high anode efficiency, uniform anode area, durability, high strength, light weight, reduced consumption of plating material, less voltage loss, etc. We can produce the baskets in various shapes like round, rectangular and tray form according to the requirement of customers.
Application in Electroplating industry:
Precious metal plating(Ag, Au, Rh, Pd)
Hard chrome plating(Cr6+): piston ring
Base metal plating(Cu, Zn, Ni)
2.Features:
The advantages of using the Titanium basket:
1).It can be good at to control the proportion between the anode and anode area
2). The anode has strong solubility, so the anode mud will be reduce to little
3).It is very convenient to install or remove Also easy to fill more
4).The material of anode will be completely for using, No more resource to waste
3.Application
Character and Application of Titanium basket:
Corrosion resistance of titanium and some hints for application of titanium products such as titanium anode baskets, racks and heaters in electroplating industry.
4.Buying Guides:
1).What is the demension of the titanium basket you required?
2).What is the HOOK's length you want?
Why choose us?
1. Advanced technology
We have a good cooperation with first class chemical liquid supplier, so we can provide environment-al, economic design and suitable process design for production.
2. Optimized electroplating products' design
We have optimized design system for plating tank, plating barrel and plating line,
framework and control system. Over 15 years design and construction experience.
3. Using high-quality material and equipments
4. Provide process training
We offer training course of technical certification for customers and the directors are with
over 10 years' experience.
5. Service assurance
We provide 7*24 hours multilingual services(Chinese, English, French, Russian, Arabic, Japannese).
Global Location
Large storage warehouse
DMS equipments: online failure analysis and maintenance system.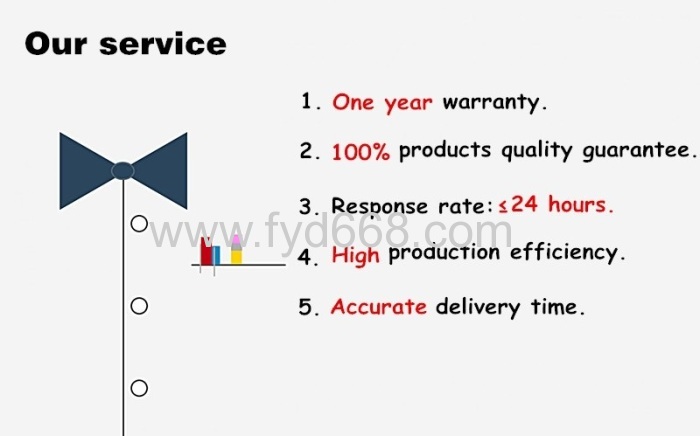 Company Information: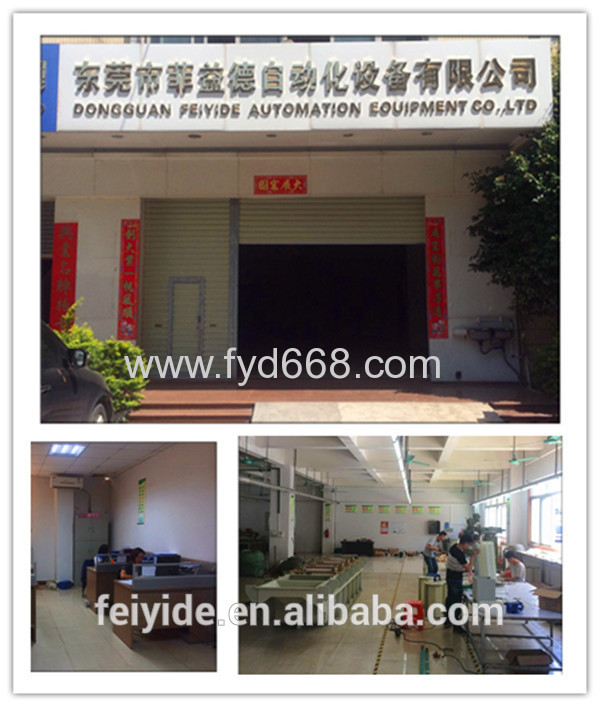 Dongguan Feiyide Machinery Equipment Factory is a professional manufacturing enterprise which collects together R&D, production and sale. we've been in this field for decades, Our company aims to further research and development of plating equipment and provide customers with the most excellent and suitable service. With the core of "Pursuing excellence, customer first", we constantly improve the metal plating technology aiming to be the best suppliers of electroplating industry and providing electroplating industry with the best plating technology.
Based on high-quality imported material and the most advanced electroplating production technology. We have gradually formed a standardized production process, developed a series of electroplating equipments and other related auxiliary equipment. And now, we are specialized in making plating machines such as plating line, plating tank, plating barrel and water/gas treatment plant. Auxiliary equipment includes high-frequency switching power supply, filter, heater, temperature controller, titanium basket, oven, industrial water purification machine, chiller, etc.
Packaging & Shipping
Packing: According to the different products and quantity are packed in a wooden
container, such as 20GP/40GP/40HQ
Shipping: By sea or according to the special request of the buyer
FAQ
1.Q: We need plating machine for ×××, could you send me a quotation?
A: Because plating machine is always customized for different products, we'd like to send you quotation and make the design for you based on knowing detailed information from you first.
2.Q: What is the necessary information you need for design?
A: The plating prosess you have had, The capacity of your per products, The material, weight, size, and surface area of your per product, The thickness of plating layer, Your working hours per day, Type of salt spray test and time, Workshop dimension and so on
3.Q: What's the lead time for one project?
A: It usually would take about 15-30days for production and the time is based on specific projects.
4.Q: How can I carry out my work if I plan to set up a new plating line?
A:It would be better if we could communicate with your chemical liquid supplier on the process details first. Besides, professional engineer is also important for your project.
Contact us: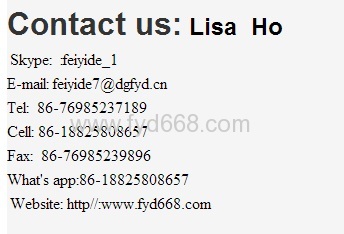 Related Products: